December 29, 2022
6 Ways to Make Moving with Pets Easier
Whether it's a cat, dog, bird, fish, hamster, rabbit, or any combo of these, our pets are our friends
and companions. We love them with all our hearts and want to give them the proper care and
treatment. This is always our goal, but it's especially important during stressful and challenging
times. And moving with pets is just such an occasion.
As you well know (or you're just starting to realize), moving to a new place is a lot of work. You
need to prepare everything, arrange paperwork, find the right movers, and, on top of all that,
pack your belongings. It's an occasion that will provide a lot of stress and anxiety and also test
your patience.
But, believe it or not, it's even worse for your pets. Unlike you, they have no idea what is
happening or why. Most animals are creatures of habit and routine, and uprooting them from
everything they know is likely to have a negative impact on them. Luckily, there are ways to
make moving with pets much easier. Follow our tips and ensure your lovely companions have
care-free relocation and seamless transfer to their new home!
First things first
How your move will go depends significantly on whether you plan to hire a moving company or
organize a DIY move. While DIY relocation may seem cheaper, it will take a lot more time and
organization. On the other hand, if you hire reliable movers, all the logistics you need to take
care of are your own transport. If your pets are accustomed to riding in your car, it will be less stressful for them.
Also, it's vital to consider the expenses. And there are so many of these. Real estate agents,
packing supplies, home appraisals, and much more. Of course, there are ways to save money.
Collecting boxes in advance or using online moving estimates instead of in-home evaluation are
some of them. However, it's not always a good idea. Boxes might not be of good quality or
suitable size for your needs.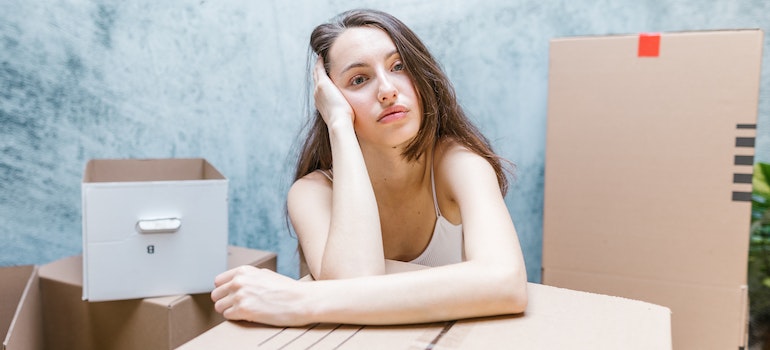 Furthermore, you might want someone to evaluate your home in person. In other words, you will
get an estimate of all costs, including boxes and packing. So it's no surprise that many still prefer
this option even though it's not as cost-effective as doing everything yourself.
DIY moves can save you money, but there are a lot of risks along the way. As a result, you may
have to spend more in the long run. And, of course, you must consider both your and your pets'
needs and set enough money aside for this purpose.
So, let's see what else your pet needs to ensure a stress-free move!
1 Ensure all the paperwork is up-to-date
In the same way that you need to transfer medical records for yourself, you need to do the same
for your pet. Contact your vet and obtain all the vet records, prescriptions, and necessary
medications.
In addition, ask your vet for advice on how to make your move easier. Apart from motion
sickness meds, they'll give you valuable info about what your pets need and want during this
trying time.
Also, if your pet has a chip or ID tags, don't forget to update your name, address, and contact
info.
2 Take care of your pet during the preparations
Preparing your pet for the move doesn't include the moving day only. On the contrary, it means a
few hectic weeks or even months before the move. A lot of people accidentally neglect their pets
during this confusing time. However, you must stick to your and your pet's routine as much as
possible.
Also, ensure your pet has a safe spot to avoid all the chaos and noise. If you have a cat or a dog,
help them to get accustomed to being around the boxes and packing supplies (not that cats will
need much prompting to fall in love with a box!).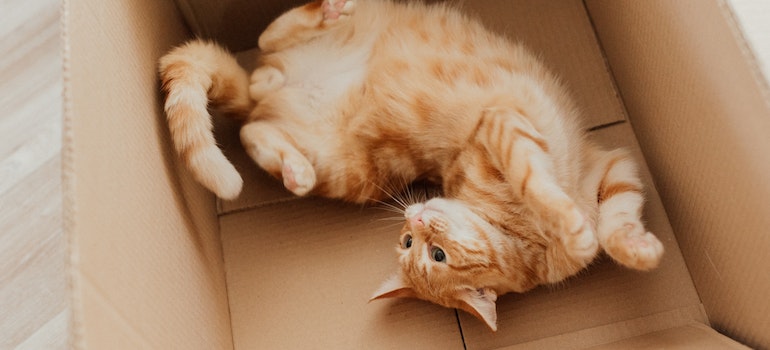 And while you can save money during the relocation, don't save it on your pet. If you have a lot
of work and can't spend time with them, or you'll be away the whole day running errands,
consider taking your pet to a daycare. Your pet will love it there, and you'll have time to do
everything you need.
3 Prepare everything for the moving day in advance
The next thing on our list that will make moving with pets much easier is to prepare a bag for
moving day in advance. You can carry it in the car and have everything you need during the trip.
Here are some items that you should put in this bag:
enough food and water
necessary medicines
favorite toys
leash and collar for dogs and cats.
4 Ensure the items that will make your pet at ease in their new
home are within easy reach
Additionally, keep in mind that the journey to your new address isn't the only stressful part. Your
pet will need time to adjust to its new home. So, have a bag or box with their food bowls, beds,
litter, and similar items close by. That way, you can unpack it as soon as you arrive and ensure
your pet feels safe and comfortable in unfamiliar surroundings.
5 How to actually move your pet
If you have a pet that feels at ease traveling with you, you already know what to do. But if your
pet hasn't traveled, you want to make them feel comfy. Put them in their carrier with a cozy
blanket and their favorite toy. Adding your T-shirt or another clothing item with your scent will
also help them feel safe.
For smaller pets, it's essential to keep them secure in their cage. Ensure they have enough food
and water for the trip, too. Some pets will probably need more reassurance and care during the
trip than others.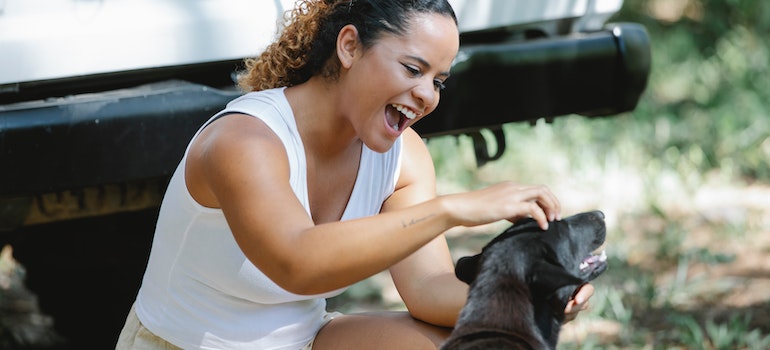 6 Make stops along the way
Now, a long-distance move across Canada takes a lot of planning and organization. If a trip from
your old to your new home will take a whole day or even days, you need to plan for it. Book pet-
friendly accommodation in advance.
And don't forget to make pit stops along the way. Leash your cat or dog before you let them out
of the car. Let them stretch their legs and have some exercise. It will make the trip more bearable and enjoyable for them.
Enjoy your new home with your pet!

Finally, you're at your new home! Moving with pets is challenging, but if you plan and prepare
well, you'll ensure everything goes as smoothly as possible. Give your pet enough time to
explore and adjust to their new home, and soon you'll enjoy it together.
Get a free quote for your next move with surrey movers.